Are you ready to grow with us?
We invite you to get to know us as we make our roots at our new Arvada location.
No matter your stage in life, there's a place for you here. Read about our various ministry groups here.
Come, be a part of our family!
NAC in the Denver Post's YourHub
Check out the August 2016 YourHub article about our church!
Volunteer Opportunities
Want to lend a hand or join a team? Current volunteer needs are listed below.
Area
Need
Time
Contact
Choir
Worship God through music
Monthly practices
Beth Ann
VOA dining program
Assist senior dining program
Wednesdays at 10am
Barb S.
Security Team
Monitor people and grounds
During church activities
Frank S.
Food Pantry
Assist pantry guests
Assist with food pick-ups
Wednesdays at 9am
As required
Sharon
Blessing Box
Stock the blessing box
Weekly to monthly
Sharon
For more info about volunteering, send us a note at:
contact@nac-denver.org
Blessing Box
Miniature food pantry. Available 24/7. "Take what you need, leave what you can". Located on the north side of the building.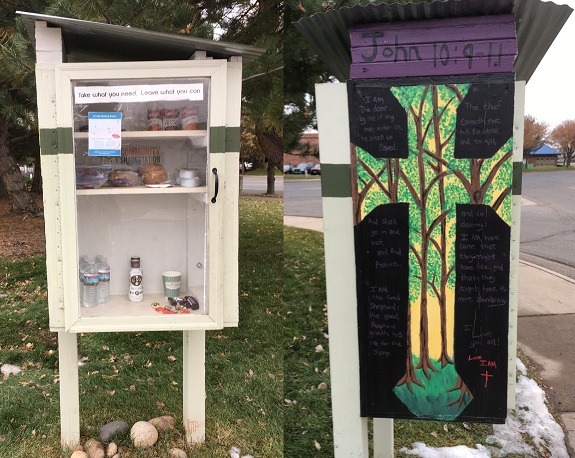 Our Location
5290 Vance Street
Arvada, CO 80002
Get Directions
720-504-4622
Brief History
In November of 2014 the National Organization of the New Apostolic Church purchased a building located at 5290 Vance St in Arvada, CO. We adapted the building to fit the needs of the Denver Metro congregation, which houses the 3 former congregations of the Metro Denver front range.
Our new church building contains a large sanctuary, gathering area, classrooms, and a food bank that allow the congregation to fulfill its mission to serve souls in the Denver Metro area, providing soul care and a welcoming fellowship environment.
The Denver Metro congregation is very excited to be joining the community in Arvada!
Getting Organized
The roles in the congregation are shown in our org chart.
Subscribe to our mailing list
---
Timeline for completing the building